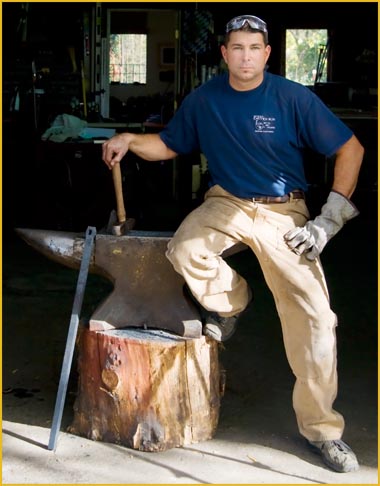 Welcome To Earthen Iron
Earthen Iron is a full service Metal Studio. Since 1990 Earthen Iron has provided its customers with a variety of finely crafted projects and quality services.
I have designed, forged, fabricated and installed hundreds of projects for clients throughout California. Thoughtful applied design and finish has been a key focus in making these projects successful.
Experience in design and understanding the use of materials has been essential in making those projects meet and exceed the expectations of my clients. The careful selection of materials, textures and finishes give a unique feel to each project.
One of the most satisfying aspects of working in this field has been the diversity of truly kind and special people that I have worked with over the years. On that note, meeting Dorna Andersen has been very special. Earthen Iron is now located in her family's historical blacksmith shop! It is full of the original equipment used by her father Nels and her Grandfather Andy . With an ambient light that shines over the original overhead line shaft system that once drove the shop equipment, the Andersen Blacksmith Shop is an extremely inspirational place to work. Many thanks to Dorna for this opportunity!
If you are looking for railings, gates, or decorative metals to adorn your business or residence, I can provide personalized design services, fabrication, finishing, and installation to suit your needs.
Thank you,
Dave